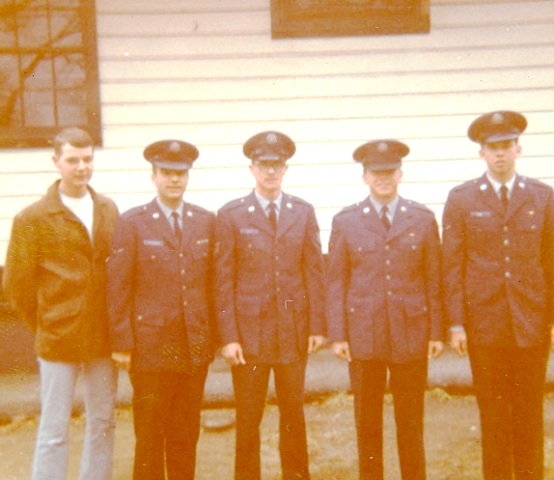 I'm including a photo taken in mid-December 1969. The graduation picture at Ft. Belvoir, VA December 1969
From left:
Paul Balionis was sent PCS to California
Paul Patenaude.... god how youthful we all look
Unknown
Charley Thompson
Wayne Paige

We all went PCS to Bob Weaver/Data Reduction Cheyenne
I'd love to know any info on Wayne Paige...we were roommates in Cheyenne.
I was sent to Barksdale after Thompson.
Wayne went after me.
Thompson returned to Cheyenne Data Reduction after two TDYs in SEA
He married the First Shirt's daughter at Base Chapel in 1973
On return to Cheyenne, I asked Col. Heineger for Gravity
Paige went to Barksdale after I did, completed his 2 TDY's and was stationed in Colorado when he returned. I visited him w/ his Thai wife in Monrovia, CA April '77
I last heard of Wayne when he moved back to Cheyenne after his wife was deported as an undesirable alien. He married a Cheyenne girl and they had a daughter. I lost contact with him in the early 80's and would love to know where he is now. He was good friends with Donna, data reduction civilian, who key punched Astro Survey data...god did we really do this?
If you can access any info, I would be in your debt.