Detachment at Cape Canaveral in 1967.
Back Row, Left to Right: Del Hayner, Jerry Salsgiver, Everett Moore, Jack Nickel, Ron Veasy, Jerry Tremblay, Walt Blackmer, Walt Abraham, Capt. Carpenter (Det CO), Picha, Mike Hawkins, Raymond Chandler, Niles Rubar, Ralph Miller, William Menninger, Lorean Seymour
Front Row, Left to Right: Johnson, Morgan, Bill Barron, James Robinette, Harry Harris, Lt Col Martin Selinfreund (GSS CO), Bob Millians, Bill DeCostanza, Pete Day, Brooks, Gus Galuzza (Bob Millians supplied most of the first names. Last names taken from note found on back of original photo.)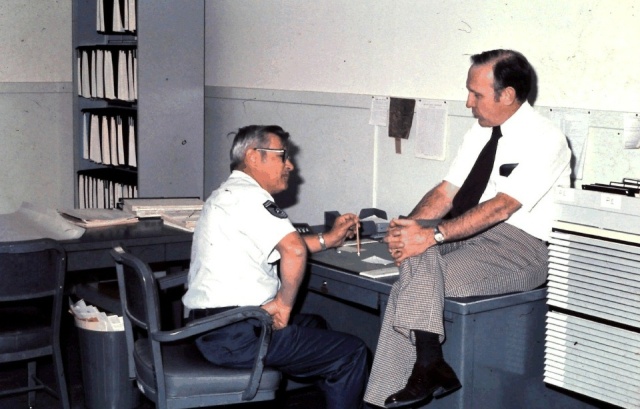 Harry Harris and MSgt DeCostanza at Cheyenne.
I read the note from Walt Spita with interest. He and I made the trip from Orlando to Alert to Orlando in August 1965, on a C130 Hercules. I think we carried 3 gravity meters from the 1381st GSS, picked up a 4th in Cambridge, MA, and a 5th in Ottawa, Canada. We were joined in Ottawa by Peter (don't remember his last name) from the Geodetic Survey of Canada (GSC). Peter was a heavy sleeper and did not like the 0600 hours appointments for takeoff. We slowly made our way north in the Hercules, stopping at a number of small villages with dirt airstrips for gravity observations at sites established by the GSC.
I remember one overnight stop in particular - I think it was at Hall Beach. It was the regional headquarters of one of the Indian affairs departments, with a long, wide runway built during World War II, and very nice guest quarters. Some of our group decided to go to a dance in the adjoining small village, but returned in short order - no admission without coat and tie.

Eureka was another memorable overnight stop. Populated by 14 weather station personnel in the summer and 6 during the winter, they were a lonely, but very hospitable group of people. We had a fish fry, prepared by a cook straight out of a Beetle Bailey cartoon, with fish caught by the aircrew.

The main thing I remember about Alert was the soil, which was a brown powder that could swallow a car. The vehicles in use were military halftracks. The muskoxen stared at our aircraft, but did not attack.

At these high latitudes the aircrew had two navigators, one of whom was qualified in grid navigation. I never did understand what he was doing, but we always hit our destinations on the spot. At the time of our trip the magnetic north pole was at Resolute Bay. It was weird as we approached Resolute from the east with the compass reading north. Passing over the magnetic pole put north behind us.

Polar View of Alert

The certificate is real. You will note that Hornby was scheduled for the trip, but Spita actually went.